How to Maintain Brick Pavers in 2019
Brick Pavers can create beautiful additions to your landscaping. They can be configured and designed to work any in area including patios, walkways, and driveways. To protect the brick pavers from damaging effects of weathering, it is needed to maintain your pavers on a consistent basis.
This article will explain the benefits of sealing your pavers and the needed steps to keep them looking great year round!
Benefits of sealing your Brick Pavers:
Reduces UV Damage
Enhances Color and Appearance
Can Leave a Shine
Reduces Weeds
Reduces Insects
Seals from Oil and Rust Stains
Protects from Salts
How To Seal Brick Pavers
Clean all brick pavers with a pressure washer. If needed remove old paver sealer that has failed or discolored with a Paver Sealer Stripper. Use an appropriate Paver Cleaner to remove stains and spills.
Wait 24-48 hours. Do any needed repairs and leveling of bricks and steps
Sweep in jointing sand between the paver stones
Remove excess sand with a leaf blower. It is important that your sand is 1/4″ below the paver edge. You do not want the sand level with the pavers.
Using your Brick Paver Sealer of choice, apply the sealer following the manufacturer's directions and spread rate. This can be accomplished with a high-quality pump sprayer or with a roller. If rolling, make sure to be careful of removing the sand from the joints accidentally.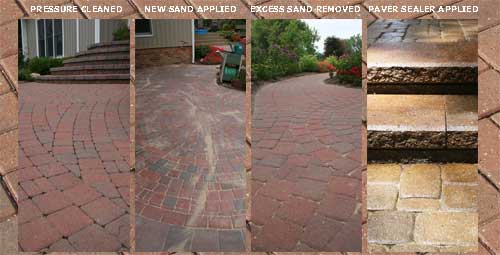 How To Maintain Brick Paver Sealers
Brick Paver Sealers will dull and lose their luster over time but will still "seal" the surface for many years. Using these tips below you can extend the life and look of your paver sealer dramatically and without the need to seal them every year.
Seal with a High-Quality Solvent Based Paver Sealer
Apply a solvent such as Aromatic 100 to restore the look of the sealer every 12-18 months. This solvent will reset the current sealer, making it look like it is brand new. The sealer will still be intact but it can dull from dirt and Ultra Violet radiation. You can do this process 1-2 times before the need of reapplying the sealer.
Reapply a Paver Sealer every 2-3 years or as needed
These simple steps will save you the money of sealing too often and the potential issues of overapplication.
Questions? Please Ask Below