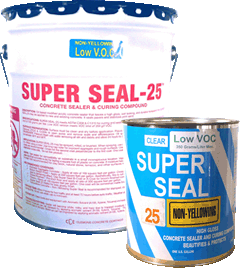 Best Paver Sealer for California 2023
What is the Best Paver Sealers for California and the Low VOC Laws?
Being environmentally conscious these days is important to most people. When it comes to painting, staining, or sealing surfaces, there can be some concern as to the safety of using such compounds. Some states like California have much stricter VOC restrictions. The VOC number is a measure of Volatile Organic Compounds, and it can be limited to a certain number in states like California.
Finding the best paver sealer for California is a matter of finding a low VOC sealer that is still going to give you optimal results. A popular choice for the best paver sealer for California is SuperSeal VOC. This is a 25% solid solvent-based acrylic sealer.
It can be used on all exterior decorative concrete. It is best used on brick pavers, stamped concrete, exposed aggregate, acid stained cement, and more. SuperSeal VOC enhances the natural color of your hard exterior surfaces and gives them a "wet look" appearance while protecting against adverse weather conditions.
SuperSeal VOC is only a handful of solvent-based sealers that can still be shipped to low VOC restricted states like California. With a more environmentally safe blend of exempt solvents, SuperSeal VOC is perfect for limited VOC areas or for any homeowner that is environmentally conscious.
SuperSeal in this low VOC formula is safer than most other solvent based sealers and performs just as well if not better. Enjoy the benefits of maintaining your paver and concrete surfaces while still being eco-friendly with SuperSeal VOC.
Any Questions? Ask Below!