Paver Restoration
When it comes to quality concrete and paver sealers you cannot overlook SuperSeal 30 Concrete Sealer. This high gloss, "wet look" sealer is manufactured by Clemons Concrete Coatings. A look at a SuperSeal 30 review shows it as a top choice among professionals for sealing concrete and paver surfaces. This resin formula is designed to create a protective and decorative finish. SuperSeal is a non-yellowing styrene-acrylic polymer sealer with extra ultra violet blockers and light stabilizers that create a durable surface membrane to resist UV rays and water.
The official SuperSeal 30 review shows it is very popular for use on regular concrete, exposed aggregate, brick pavers, stamped, and decorative concrete. SuperSeal 30 is 30% solid content of acrylic yet is a breathable solvent-based sealer that darkens the appearance of the surface while leaving a high gloss shine. SuperSeal 30 does not leave an annoying yellowing or white haze even after 1-2 years. Tests show that SuperSeal 30 retains about 70% of its glossy wet look even after 2 years. The special UV blockers and light stabilizers help to retain the natural color of concrete and pavers.
In recent reviews of SuperSeal 25 tests have shown this solvent based semi gloss concrete and paver sealer to consistently be at the top of the charts. The formula is 25% solids and results in a beautiful wet look semi-gloss finish that leaves a slight darkening appearance that we have found to help enhance faded colors. This breathable acrylic curing compound is best used on interior and exterior concrete, pavers, exposed aggregate and stamped concrete designs.
The SuperSeal 25 review showed excellent product penetration into sand joints to reduce unwanted weed growth, insects, and erosion. The sealer solidifies the sand joints making for a more durable base that stands up well to harsh weather and UV fading. The SuperSeal 25 review also showed no visible signs of white hazing even at the 2-year mark as well as zero peeling or chipping. The sealer seems to dry in a few hours after application and will allow for traffic within 24-48 hours.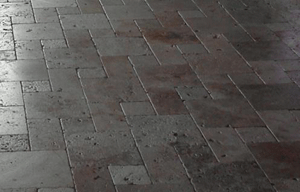 Landscape and brick paver blocks are popular among homeowners today who want to add some charm and usability to their outdoor décor. These popular paver blocks are extremely versatile and come in many colors, sizes, and shapes. They can be used for creating outdoor living spaces like patios, pool decks, and other entertainment areas as well as driveways, sidewalks, or garden paths. Brick pavers can be a new addition to landscape walls or edging as well. It may be a brand new installation or a charming way to replace regular plain white concrete surfaces. Whatever your project, brick pavers and landscape blocks are a great way to spruce up your homes curb appeal.
Made of a special hybrid formula of silane and siloxane, SuperSeal M offers superb water repellency for bricks, stone, pavers, and concrete. It's specially formulated with various size particles to fill voids and has excellent penetrating properties. The special ingredients in SuperSeal M chemically react with the substrate to create a long lasting bond of protection.
In testing and reviewing SuperSeal M it was found to be extremely user friendly and easy to apply. The product mixes up easily and seems to remain stable throughout usage. Its appearance is similar to milk in the can but goes on and dries clear. It can be applied using a pump sprayer. When applying to concrete and brick pavers it looked like the surface was wet initially but as the product penetrated the surface it disappeared. Once the SuperSeal M was finished drying, there were no alterations with the surface's appearance.
As far as masonry, brick, and paver sealers go, Masonry Saver Paver Sealer is among the top choices. This durable sealant protects all types of clay and cement patio pavers and stones. Its clear wet look finish beautifies surfaces giving them a rich satin appearance. The water based formula protects against moisture and UV rays to help substrates last longer and hold up against harsh elements.
The Masonry Saver Paver Sealer reviews showed it to darken surfaces slightly but perhaps not as much as a solvent based sealer. It seems to lack the deep rich look some people may be looking for. Two coats appear to bring out more of a matte shine a little less than a semi-gloss. This helps cut down on creating a slippery surface like glossier products. When used in applications that have joint sand, the Masonry Saver Paver Sealer solidified the sand all the way through. It was not affected by harsh chlorine water when applied to areas around pools and hot tubs.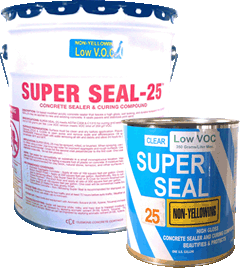 What is the Best Paver Sealers for California and the Low VOC Laws?
Being environmentally conscious these days is important to most people. When it comes to painting, staining, or sealing surfaces, there can be some concern as to the safety of using such compounds. Some states like California have much stricter VOC restrictions. The VOC number is a measure of Volatile Organic Compounds, and it can be limited to a certain number in states like California.
When should you seal Seal New Pavers?

Having pavers installed is a good way to boost your home's curb appeal and property value. Paver designs and ideas are can seem endless. Most commonly, pavers are used for driveways, sidewalks, patios, pool decks, and more. The type, shape, look, size, and color of pavers can also vary widely in choice. There are so many varieties of pavers in today's market but that can be part of the fun. After spending a lot of time and money picking your paver design and once the pavers are installed, it is important to protect your investment.